Catherine Whiter
Language Arts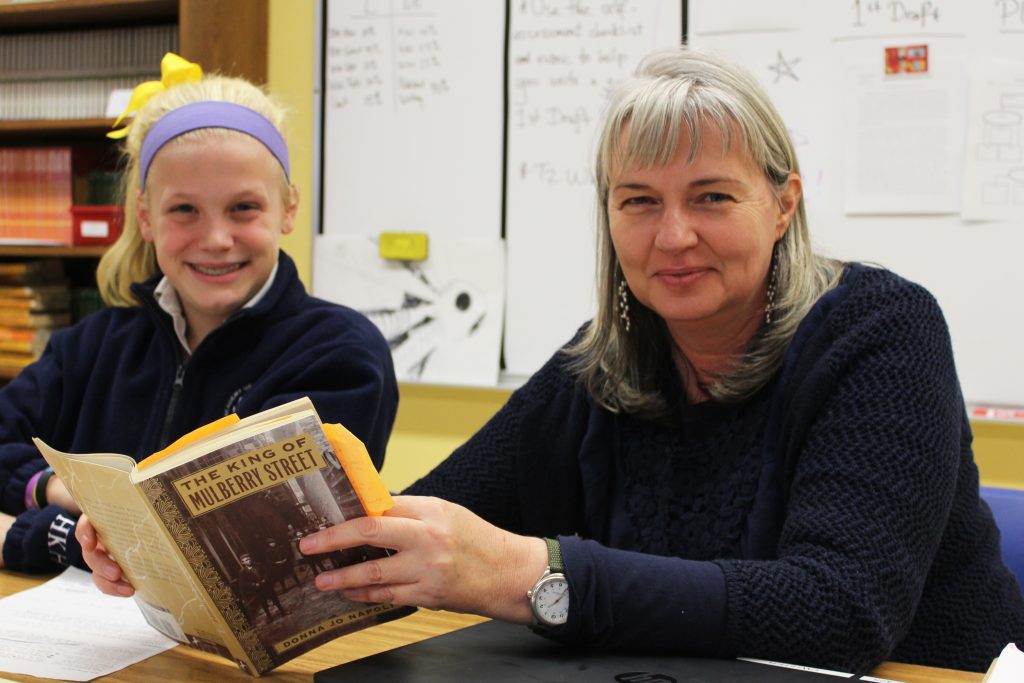 Originally from the UK, Catherine grew up in a small town in New Jersey only a hop, skip and jump away from Manhattan. In school she developed a lifelong love for languages, literature and travel. After earning a B.A. in German literature from Reed College she received her M.A. in European languages and literature from the University of Hawai'i at Manoa. She started her teaching career in Honolulu, first as a university instructor and then as a high school English teacher.
After seven years in the mid-Pacific, Catherine moved to St. Louis to teach German, French and Latin and lead the Middle School World Languages Department at MICDS. A decade later she moved to China to teach English as a Second Language at an International Baccalaureate school near Shanghai. After eight years of working overseas and traveling to as many countries as possible, Catherine returned to the Midwest to teach one of her first loves—English literature.
Her license from the state of Missouri qualifies her to teach ELA (Grades 5–8) and English literature (grades 9–12). She was drawn to ASH due to its strong sense of community, its dedication to educating the heart and the mind, and its emphasis on creativity. She is enjoying the challenge of getting her students to think "outside the box" and to develop a growth mindset.
---
Bob Lampen
Math
Bob taught Math and coached volleyball for 18 years at Notre Dame de Sion High School in Kansas City, MO prior to coming to the Academy. A native of St. Louis, Bob was inspired to be a teacher and coach while attending St. John Vianney High School. "Teaching at the Academy allows me to use my previous teaching experience at the high school level to prepare students for thier high school and college academic pursuits." In his spare time, Bob enjoys all things sports, especially following the St. Louis Cardinals.
---
Mary Furay
Theology
Mary returned to the Academy as a History and Theology teacher after a four year break from classroom teaching. She previously taught Social Studies and Religion for nine years at the Academy and prior to that taught Language Arts at a small Catholic school in Ferguson. While on a hiatus from teaching, Mary worked for the St. Louis County Library in their History and Genealogy Department. She also worked for the Pattonville School District, first as a professional substitute teacher and then assisting in the Teaching and Learning Department at Pattonville's central office. Mary loves teaching because the students challenge and inspire her to be constantly thinking and learning. She is grateful to be back at the school named after God's Heart, where we live our lives looking towards deepening our relationship with God and our best selves. In her spare time, Mary enjoys reading books about history, playing board games (Mary is hoping to restart the Academy Board Games Club someday) and hanging out when she can with family and friends.
---
Lindsay Mitchell
Spanish
Ms. Mitchell has a great passion for learning about new languages and cultures. After spending a summer teaching herself the language, she tested into Spanish 2 as a high school freshman, and her love of the language grew (and is still growing) from there! She attended the University of Puerto Rico as part of her undergrad program, and has traveled around Mexico, Europe, the Spanish-speaking Caribbean islands and Central America among other regions of the globe.
She believes everyone has the capability to learn a new language, it is just about finding the right way to for it to "click" and make it "stick". Therefore, games, skits, music and other fun activities are frequent complements to the traditional textbook and workbook method of language learning. An avid "trekkie", in her free time, Lindsay enjoys watching sci fi television shows, playing with her dog named Data and spending time with her friends and family.