Sandy Ahlheim
Science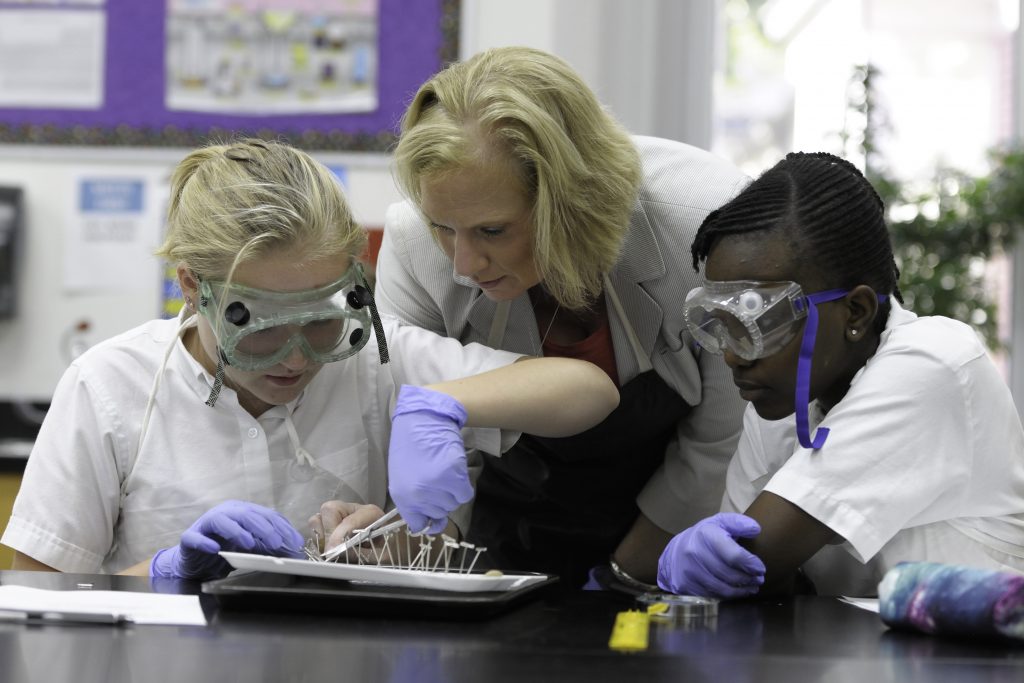 A believer in the proverb, "Tell me and I'll forget, show me and I may remember, involve me and I will understand," Sandy is dedicated to having students work and learn in her classroom though observation and investigation—just as actual scientists do. Sandy grew up loving science and always wanted to be a teacher. While dissecting a cat in high school anatomy and physiology class, she made the connection between a passion for science and a desire to teach.
For more than 23 years, Sandy has been sharing that passion with her students. She has enjoyed sharing her love of science with middle school students. Sandy holds a degree in elementary education from Saint Louis University and is certified in elementary education and middle school science education. She believes in helping each student to be proficient in science by performing investigations in order to make learning authentic. She works hard to incorporate STEM into the classroom by providing opportunities to develop engineering practices whereby students apply what they know about math and science to solve a problem and work collaboratively.
"I appreciate middle school students because they are fearless when it comes to trying new things in the science lab. Every day is an adventure in questioning, designing, creating, collecting, observing and communicating in the lab."
As a Sacred Heart educator, Sandy has been active with the Network of Sacred Heart Schools. She has served as co-chair of the Sacred Heart Commission on Goals (SCHOG), a member of the SHCOG visiting team at Duchesne Academy of the Sacred Heart in Houston, chair of the Keepers of the Flame committee at ASH, and a member of the Action Plan Committee. She has also participated in Summer Network Service projects at Academy of the Sacred Heart–Bloomfield Hills, Mich., and was a member of the planning committee for the Roots that Gives Us Wings Conference held during the summer of 2017.
Sandy and her husband, an Academy alumnus, have three children who are also graduates of the Academy. She enjoys spending time with her family and friends.
---
Andrea Corvalan
History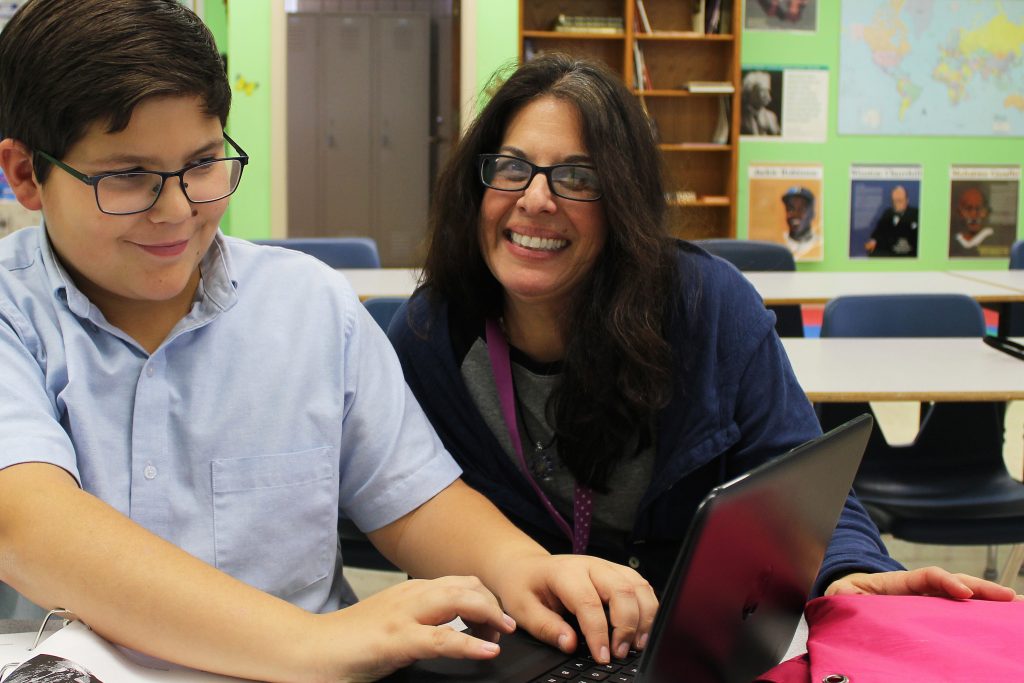 Andrea earned a B.A. in political science from Carleton College knowing that she wanted to be either a teacher or a lawyer. Both professions included her passions: books, learning and social action. She decided to focus on law and dutifully entered law school, where she thrived. Soon after graduation, however, Andrea discovered that she was not feeling the passion she had expected to feel—the passion she had felt in law school. She missed being in a school— the smell, the books, the students and the colleagues. Thus, she turned her attention to teaching and never looked back.
Andrea has worked in a variety of schools, across various disciplines, and accumulated a few degrees and certifications along the way. She holds certifications in social studies and special education and has a master's degree in special education,  learning disabilities, along with the aforementioned J.D. She is also completing a master's degree in TESL (Teaching English as a Second Language) along with certification in TESL. These degrees reflect her love of learning, respect for diverse learners and a very curious mind. Always finding new passions and interests, Andrea hopes to pass this energy and love of learning onto her students.
In addition to these professional interests, Andrea is an avid gardener. The quiet of plants balances the noise and buzz of students, her five children and two dogs.
"When I put on my gardening gloves, hold my pruning shears and/or trowel, and feel the sun on my skin, I am completely happy and calm."
---
Catherine Whiter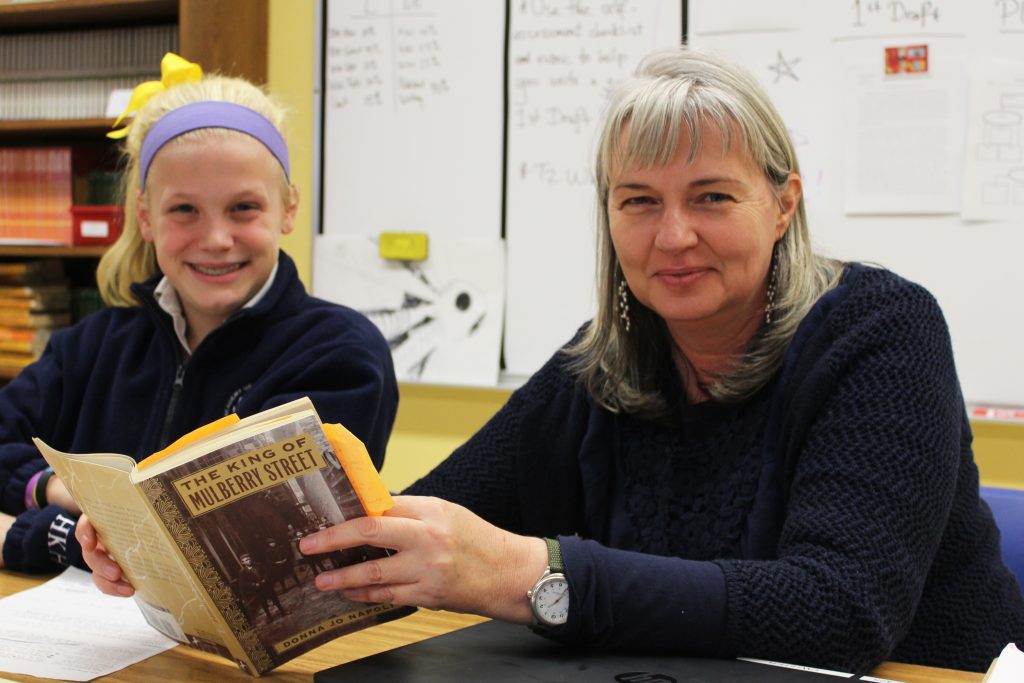 Originally from the UK, Catherine grew up in a small town in New Jersey only a hop, skip and jump away from Manhattan. In school she developed a lifelong love for languages, literature and travel. After earning a B.A. in German literature from Reed College she received her M.A. in European languages and literature from the University of Hawai'i at Manoa. She started her teaching career in Honolulu, first as a university instructor and then as a high school English teacher.
After seven years in the mid-Pacific, Catherine moved to St. Louis to teach German, French and Latin and lead the Middle School World Languages Department at MICDS. A decade later she moved to China to teach English as a Second Language at an International Baccalaureate school near Shanghai. After eight years of working overseas and traveling to as many countries as possible, Catherine returned to the Midwest to teach one of her first loves—English literature.
Her license from the state of Missouri qualifies her to teach ELA (Grades 5–8) and English literature (grades 9–12). She was drawn to ASH due to its strong sense of community, its dedication to educating the heart and the mind, and its emphasis on creativity. She is enjoying the challenge of getting her students to think "outside the box" and to develop a growth mindset.