Michelle Hagen
Art
Michelle attended the University of Missouri St. Louis and graduated with a Bachelor in Fine Arts. She enjoys working in a variety of mediums including drawing, painting, textiles and clay. She has taught art for grades 6-12 in a private, therapeutic school and utilizes differentiation and individualized instruction in her classroom. Her students are introduced to the work of a variety of artists and art periods, she wants students to experience art and realize how much it affects their lives. "I love helping students discover their creativity and watching them grow as artists and critical thinkers, the art room is their studio and I want to provide a safe space for self-expression and to explore new ideas and processes."
Michelle lives in St. Louis with her husband and three daughters and draws inspiration for her own art through traveling, music, gardening and spending summer vacations on Lake Michigan.
---
John Storjohann
Computer Science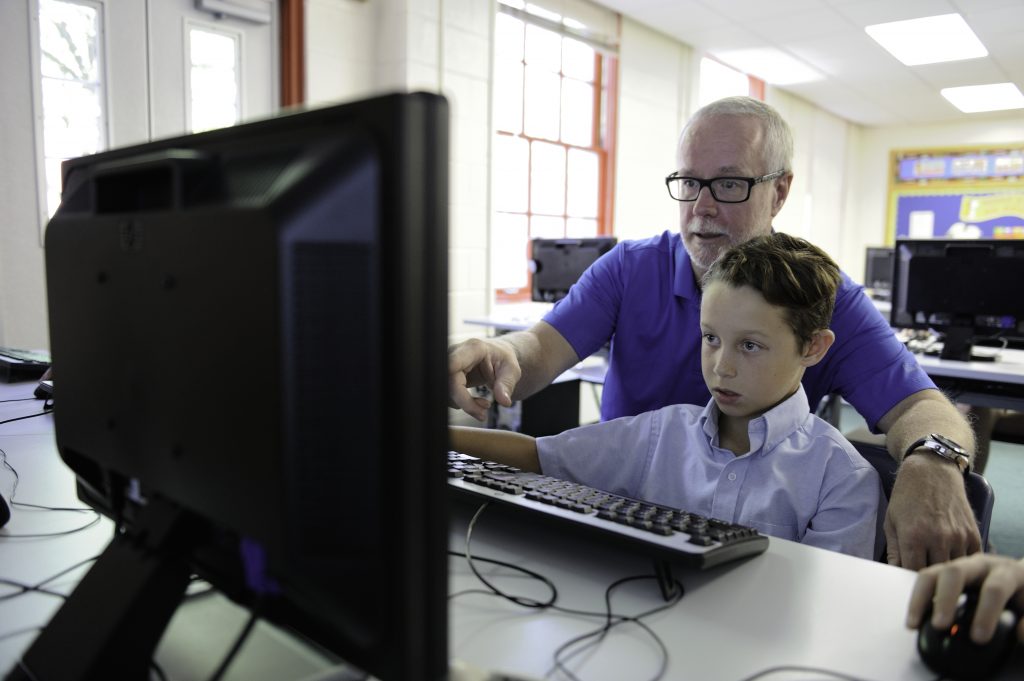 While working at a camp for physically handicapped children when he was a student at Lindenwood University, John was moved by the opportunity to make a difference in the lives of children. The experience inspired his own passion for teaching and coaching children and the Academy of the Sacred Heart offered the opportunity to teach the whole child–academically, spiritually and emotionally–in a meaningful way. In his time at the Academy, John has taught physical education, American history and computer science; served as the Dean of Students for Boys; coached soccer, basketball and track, and served as the school athletic director.
Continually seeking to grow as an educator, John is a member of the ISTE (International Society of Technology in Education). Over the past two years he has attended the ISTE 2015 in Philadelphia, Pa., completing workshops in computer science and mobile application development, the Code Studio Computer Science Fundamentals Curriculum Workshop for K-5, the Developing Leaders Seminar presented by Tim Elmore, "What Great Teachers Do Differently" by Todd Whittaker, 2017 NCEA (National Catholic Educators Association) Convention, the Common Sense Media Digital Citizenship Training for teachers K-5 and 6-12 and has begun the Minecraft in Education that adds programming skills to the Minecraft environment.
---
Liz Foor
Music
I am so excited to be returning for my 2nd year at the Academy. I love the community here and I also love that my daughter gets to attend here as well. My classroom is a place of learning, fun and a place for to me to challenge students and to encourage them to get out of their comfort zones. My favorite part of teaching is getting to know each child and their personality and different talents. I provide a lot of different opportunities and experiences in my classroom so that my students can leave with an appreciate for music.
---
Alexa Masters
Spanish
Ms. Masters started in Outdoor Education at the YMCA of the Rockies and loved seeing the joy children had of learning about the world around them. She went on to work as an educational assistant while earning a teaching degree and eventually a masters. Ms. Masters has taught several different subjects in her few years as a teacher and has learned from, and enjoyed, every position and every student. Her goal as a teacher is to bring excitement to the classroom, but more importantly, guide them to understand the intersectional ideas that connect their world experiences to my classroom.
When she is not teaching she is enjoying time with her family or practicing one of her many hobbies of woodworking, stained glass, photography, reading, and art.
---
Nathan Keller
Physical Education
Nathan knew he wanted to go into physical education after teaching kids fun activities at a summer camp and wishing he could do it year round! He loves to ignite a passion in his students for lifelong physical fitness, an appreciation of the outdoors, and character building! He is a big believer that there is at least one physical activity every student will enjoy (but hopefully many more) whether it is Ultimate Frisbee, Pickle Ball, or one of the many other activities the academies physical education program offers! In his free time, Nathan can be found camping in many of the great state forests near STL, riding new mountain bike trails, and playing in occasional Tennis tournaments.
---