Megan McGraugh Horner
Math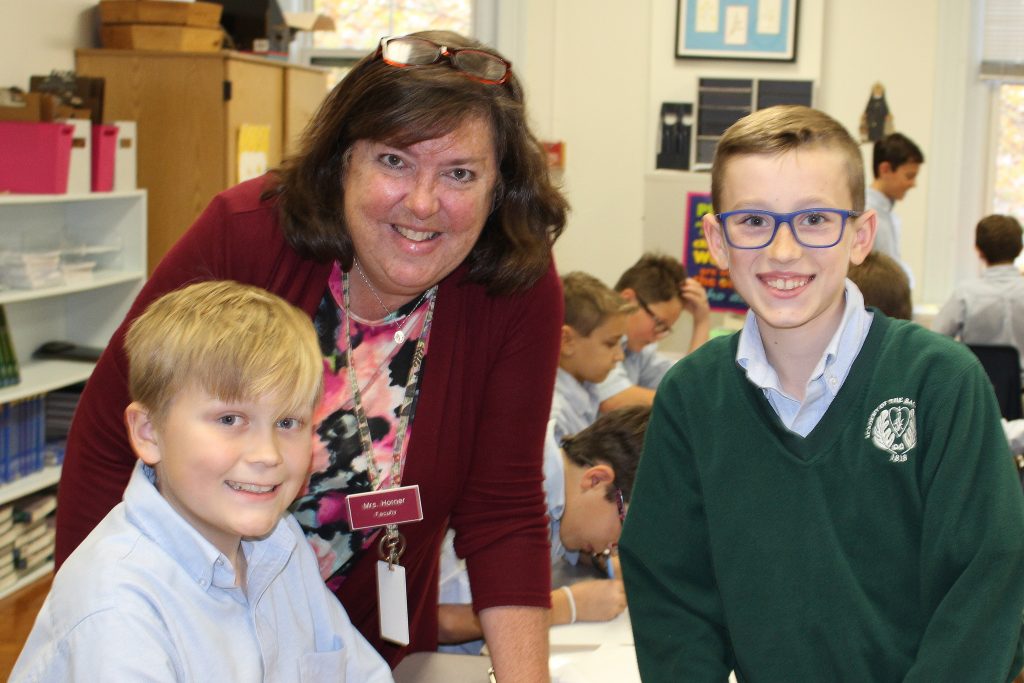 Megan grew up in a family that put a high priority on education. Like many teachers, Megan knew from an early age that she wanted to teach. Coming to the Academy as a student made her dream crystal clear. Not only did she want to be a teacher, but she wanted to teach at the Academy.
"I knew from an early age that this was a special place. I may not have been able to verbalize it at the age of eight, but I felt the emphasis on the education of the whole child. I knew that we, the students, were not only held to a high academic standard, but we were loved, valued and respected by our teachers."
Coupled with her passion for teaching, her love of math and science motivated her to complete high level math and science classes. After graduating summa cum laude from Saint Louis University with a B.A. in elementary education, Megan returned to the Academy as a Third Class teacher. After 24 years in Third Class she has spent the last eight years teaching Fifth and Sixth Class math. The developing independence and academic curiosity of her students excites and inspires her daily. Megan loves seeing the pieces fit together as a student's number sense and problem-solving skills develop and the math begins to make sense. Watching the light bulb turn on, when a student has that "ah ha" moment, gives her great pleasure.
"It is an honor and privilege to spend my days with these students carrying on the mission that Philippine Duchesne brought here in 1818 and that I experienced as a student," she says.
As an active member of her parish, Megan has played a significant role in preparing the older students for the sacrament of Confirmation. She enjoys spending time with her husband, college-age son, and extended family. Most weekends you will find her with a group of family members rooting on the Billikens or at the lake enjoying the beauty and peacefulness of the outdoors.
---
Tammy Strother
Religion and Social Studies
For as long as she can remember, becoming a teacher was the only thing Tammy wanted to do. "God put that mustard seed in my mind at a very young age."
At age 17 she started college knowing the path she wanted to take. She attended the University of Missouri, St. Louis and graduated cum laude with a B.S. in elementary education. After teaching fourth grade for five years in the Francis Howell School District, Tammy spent the next 12 years as a stay-at-home mom. When deciding to return to teaching, the only place she wanted to teach was the Academy.
"When my children began attending school here, I saw that the Academy was addressing the whole child, not just the academic aspect, and I wanted to be a part of that community."
Tammy enjoys teaching history and religion. "It is amazing how these two subjects are intertwined. Ancient civilizations and our country were formed out of religious beliefs. I consider history a form of storytelling. This gets the students' attention and draws them in."
Tammy considers teaching religion a privilege. "Students need to understand the Church's teachings to feel a connection with their religion. I also want to strengthen their relationship with God through different forms of prayer, both private and communal, and through service opportunities."
Tammy enjoys spending free time with her family and puppies, gardening and working on her house.
---
Guthrie Kimball
Language Arts
Guthrie always knew she wanted to work with children, especially middle school students, and wanted to share her passions for English and history with the students. Guthrie looks forward to getting to know each student throughout the school year and watching them strive and grow in their learning and within our school community. "I love how welcoming and loving the Academy is to everyone. The Academy is dedicated to the intellectual, spiritual and personal growth of all students." In her free time, Guthrie enjoys painting, reading, and hiking as well as spending quality time with friends and family.
---
Shelly Marino
Science
Shelly worked as analytical chemist for 3 years testing the quality of pharmaceuticals for various labs throughout the country prior to seeking a field which allowed her to become a stay at home mother when that time came. She first got into education when asked to fill in as the lab instructor for a private school in Illinois, Bethel Christian Academy, where her son attended. As she began to teach, Shelly recognized a great need for students to actually learn and not just memorize information. She felt such a connection with the students that she started pursuing her teaching certification. After her first year as the lab instructor, Shelly became the middle and high school science teacher. It was then that she realized teaching was her calling all along.
Shelly is grateful to have her experience as a chemist to pass along real world situations to her students. "The students at the Academy are wonderful! The students value what we teach and show their appreciation each and every day."
In her free time, Shelly enjoys reading, biking, hiking and spending time with her family and two dogs.
---