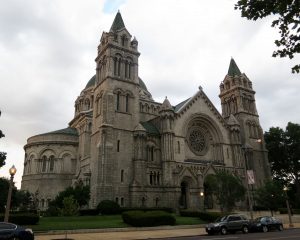 As part of its bicentennial celebration in 2018, the Society of the Sacred Heart has commissioned a sculpture of Saint Rose Philippine Duchesne for the Jubilee Prayer Garden at the Cathedral Basilica of St. Louis, 4431 Lindell Blvd. This will be a life-sized, seated sculpture of Philippine with a map on her lap. Philippine will be depicted in her mid-40s, her age when she left France to come to America.
Join us at 10:30 a.m. on Friday, June 29, where the sculpture will be unveiled and blessed by the Most Rev. Robert J. Carlson, Archbishop of St. Louis, and Sheila Hammond, RSCJ.
For more information regarding this event, please click here.